The Malampaya Project: The Big Picture
The discovery of an alternative and indigenous source of energy was a milestone event for the Philippines, a country that has historically relied on imported fuel for the bulk of its domestic and industrial power requirements.
The Malampaya Deep Water Gas-to-Power project is one of the largest and most significant industrial endeavors in Philippine history. A joint undertaking of the Philippine national government and the private sector, the project is spearheaded by the Philippine Department of Energy (DOE) developed and operated by Shell Philippines Exploration B.V. (SPEX) on behalf of joint venture partners Chevron Malampaya LLC and the PNOC Exploration Corporation.
A STORY OF POWER
The Malampaya story is a story of resilience, perseverance, and innovation spanning over a decade. In 1989, a small gas reservoir called Camago was discovered in the area of service contract 38 (SC 38). In 1990, upon acquisition of a 50% participating interest in SC38, SPEX joined the search for natural gas reserves. Two years later, the Malampaya gas field was discovered, and was later found to be connected to the Camago structure.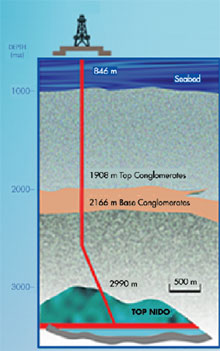 SPEX drilled five wells to determine the amount of gas available in Malampaya. The findings confirmed the presence of a formidable power source 80 kilometers northwest of Palawan island–about 2.7 trillion cubic feet of natural gas reserves and 85 million barrels of condensate, located some 3,000 meters below sea level. In 1995, after comprehensive studies, it was concluded that Malampaya presented an extraordinary opportunity for commercial gas development in the Philippines.
The development of Malampaya posed a myriad of daunting logistical, social, environmental, and financial challenges. It required the active participation and involvement of government agencies, communities, and both Filipino and multinational companies. The DOE played a key role in making Malampaya a reality.
In 1998, former President Fidel V. Ramos signed the declaration of commerciality of the venture. Three-and-a-half years later, in October 2001, the Malampaya Deep Water Gas-to-Power Project was inaugurated in a special ceremony at the onshore gas plant in Batangas.
Last Updated: 25 April 2014 at 10:30AM

Email This Page

Print This Page