A total of 601 graduates in Mindoro recently completed the SPEECH-ACCENT course sponsored by Malampaya Foundation, Inc. (MFI). The language proficiency programme is designed mostly for teachers and government employees and was introduced in Oriental Mindoro in 2008 as a collaborative effort of the provincial and city governments and the private sector.
SPEECH-ACCENT utilises a computer-assisted language learning software, which focuses on enhancing the four macro-skills of listening, speaking, reading and writing. The course is a special partnership between the Provincial Government of Oriental Mindoro (PGOM) and MFI, with the aim to improve and enhance English language proficiency among public school teachers.
Of the 601 graduates, 200 received their certificates of completion from Technical Education and Skills Development Authority (TESDA) officials during a ceremony held at the Benedictine Nuns Monastery at Barangay Salong in Calapan City last Nov. 12. The event was witnessed by Oriental Mindoro Gov. Alfonso Umali, Jr. who announced his issuing of Executive Order No. 50, creating the Language Skills Institute at the provincial capitol, as a sign of his commitment to continue the programme. "We cannot do this alone, we're counting on you," Gov. Umali told the graduates. Umali also announced the search for another venue wherein the same programme can be launched to benefit the people in southern Oriental Mindoro as part of the job generation thrust of his administration.
Also present at the ceremony were Vice-Governor Humerlito Dolor and MFI Executive Director Luke Esteban, who said Oriental Mindoro was implementing the right approach in keeping up with the international trend of embracing the English language, particularly in light of information technology. "Start at your home, don't be ashamed of using English," Esteban said.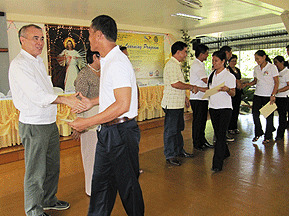 In their testimonies, graduates Christian Lopez and Rey Alcala expressed gratitude for being part of the programme, saying that it has exposed them to innovative approaches that have enhanced their communication skills. Aside from computer assistance, trainees were also introduced to actual extension activities facilitated by an English instructor.
Other guests at the ceremony were Mrs. Marilyn Manigbas, who represented Calapan City Mayor Salvador Leachon, TESDA MIMAROPA's Dr. Asuncion Ordona and Renato Pantaleon, and Dr. Araceli Salmorin, DepEd Superintendent for the City Division of Calapan. [SPEX Communications]
Luke Esteban, Executive Director of MFI (extreme left) congratulates one of the graduates of the SPEECH-ACCENT course during a ceremony held at Benedictine Nuns Monastery in Calapan City.