Thursday, 9 February 2017
Calapan, Oriental Mindoro — The best-managed marine protected areas and Bantay Dagat groups in the province were jointly awarded today by the provincial government, Malampaya Foundation (MFI) and Bureau of Fisheries and Aquatic Resources (BFAR) at the biennial Sustaining MPAs Through Awards and Recognition (STAR) awards.
The STAR Awards sets high standards for functional MPAs and Bantay Dagat Teams as a key indicator of functional MPA and Enforcement Network. It encourages the improvement in the performance of network-member MPAs and Bantay Dagat teams by means of regular performance and biophysical monitoring.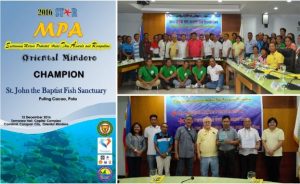 For 2016, four (4) MPAs and 4 Bantay Dagat Teams of the provincial agricultural office and MFI's Verde Island Passage Biodiversity Conservation Program garnered the top five spots. The MPAs of Brgy. Puting Cacao – Pola, Brgy. Ranzo – Pinamalayan, Brgy. Ilag – San Teodoro, and Brgy. Balatasan – Bulalacao landed on the 1st, 2nd, 4th and 5th spots.
The Bantay Dagat teams of Pola, Gloria, and Baco were in the top 5 of the best performing teams, reflected by the remarkable recovery of corals and reef fish stocks, an excellent indicator of management effectiveness of their MPAs.