For its continuing commitment in ensuring transparent reporting of government revenues from Malampaya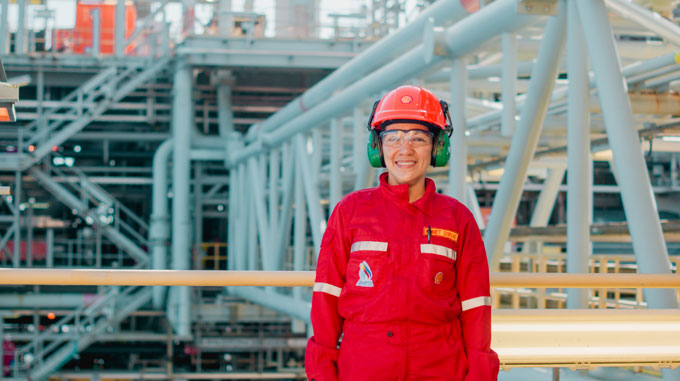 Shell Philippines Exploration B.V. (SPEX), the operator of Malampaya Deepwater Gas-to-Power Project, has once again bagged the prestigious Philippine Extractive Industries Transparency Initiative (PH-EITI) Award for Excellence in Reporting under the oil and gas category for being among the companies that submitted "the best and most comprehensive data, and posted the least discrepancy after the reporting and reconciliation process of PH-EITI."
The award was given by Finance Undersecretary Bayani Agabin at the National Conference 2020 last November 26, 2020, where the key findings of the 6th PH-EITI Report for Fiscal Year 2018 (Synergizing Transparency for Sustainability) was presented, and the Transparency Awards was held. The Annual Transparency Awards recognizes outstanding performance of national government agencies, local government units (LGUs), companies, and civil society organizations in the implementation of EITI in the Philippines and in advancing the cause of transparency in the extractive industry.
"For about 21 years now, all facets of our work have always been anchored on honesty and integrity. Be it a small transaction or a substantial one, we always ask all our employees, contractors, and vendors to comply with the law regardless of the situation," said Malampaya Operations Manager Monet Soriao. Citing an example, Soriao said SPEX hurdled time and distance restrictions brought by the COVID-19 pandemic to continuously adhere to numerous pronouncements, issuances, and protocols of government agencies during the different quarantine phases.
"At SPEX, we ensure that we strictly comply with government-mandated regulations and protocols, that we pay the correct taxes, and we remain mindful of the needs of local communities and the environment. That is at the core of SPEX," said Soriao. "This recognition shows that in addition to powering Philippine progress, SPEX ensures that the extraction of the Malampaya natural gas translates not only to cleaner electricity for the country but also to the generation of substantial significant revenues to the government that it can use for sustainable development. So far, Malampaya has remitted over US$11 billion in revenues to the Philippine government."
The PH-EITI is administered by a multi-stakeholder group (MSG) chaired by the Department of Finance. It is also composed of representatives from the Department of Energy, the Department of Environment and Natural Resources, the Department of Interior and Local Government, and the Union of Local Authorities of the Philippines, Chamber of Mines of the Philippines, Petroleum Association of the Philippines, and civil society group Bantay Kita-Publish What You Pay Philippines.
EITI is a global standard ensuring transparency of revenues from natural resources. It is a government-led initiative that is being implemented and practiced by partners from the extractive industry and the society at large. In 2019, SPEX was named by PH-EITI as the top paying company under the oil and gas category, topping the list with a P22-billion total reconciled payments.