Thursday, 16 January 2020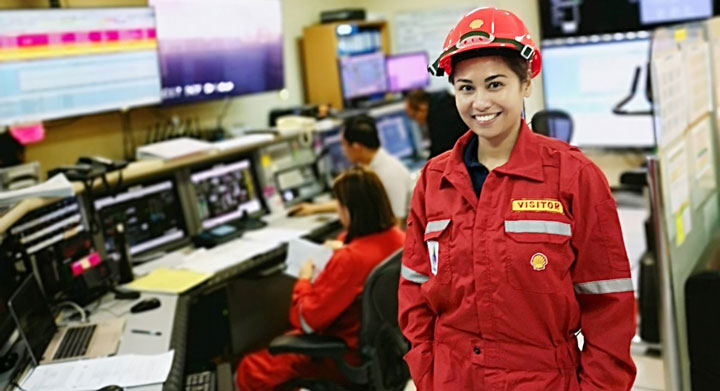 Engineering graduates who want to pursue a career in the energy industry and make a difference can take inspiration from the success of the Malampaya Deep Water Gas-to-Power project, which has employed many Filipino engineers who've helped fuel the country's progress.
Speaking during a plenary session in this year's National Chemical Engineering Week celebrations at the Philippine Trade Training Center, Filipina engineer Michelle Malonzo shared this inspiring thought, being one of the prime movers of the Malampaya project that's responsible for powering around 30% of the country.
Malonzo, who currently serves as Production Services Lead for Shell Philippines Exploration (SPEX) B.V. particularly for the Malampaya project, has been with Shell for 10 years now. She believes that the Malampaya project is something all Filipinos can be proud of—thanks to the close collaboration of both the public and private sectors in bringing something meaningful to the lives of the Filipinos.
"We are working on low-carbon energy. And natural gas is the cleanest burning fossil fuel that we have today," Malonzo revealed. "Natural gas is clean and indigenous to the Philippines. It has considerably less greenhouse emission compared to other fuels like coal and oil," she added.
"We want to progress, but at the same time, we want to care for Mother Earth," she added, stressing that natural gas can help bridge that gap.
Malonzo also shared her vast technical knowledge of the project's history as well as a glimpse into her personal Malampaya journey. She also detailed the contribution of Malampaya's natural gas power to the country since its inception in 2001, including 40% of Luzon's current power generation requirements and a substantial 30% reduction of the country's dependence on imported fuel.
She revealed that the first phase of the Malampaya project included the 504-kilometer Subsea Pipeline, which connects the Malampaya Onshore Gas Plant in Batangas and the Malampaya Offshore Platform in Palawan.
This pipeline is being inspected carefully every year for damage or other problems. In fact, with the pipes so deep, SPEX divers require the help of robots to complete this task.
Malonzo also described the depletion compression platform which was completed in 2015 for Malampaya's phase three. "The best thing about it is that it was made here in the Philippines, in Subic," Malonzo stressed. "With 1,400 Filipinos working, we proudly did 11 million safe man-hours for this project," she added.
According to her, the new platform was self-installing, which took away the need for large vessels specialising in offshore platform installation. "It took around two and a half days with a travel speed of three to four knots just to reach the existing facility in Malampaya and make the connection," she revealed.
Malonzo believes that future explorations can learn a lot from what Malampaya has achieved in terms of technology. "We will always be developing faster ways of drilling and exploring, and this is what our future explorations, even in a global setting, can learn from Malampaya."
Malonzo graduated from the University of the Philippines with a degree in Chemical Engineering. In her talk, she touched candidly on the challenges that female Chemical Engineering graduates face. She said, "Not a lot of women graduates of Chemical Engineering land in the oil and gas industry. There are very few of us."
However, this did not stop her from pursuing a career in the male-dominated oil and gas business. Working as an Engineering Management Trainee in 2002, Malonzo found a big opportunity in 2009 when she joined Pilipinas Shell as one of the two Process Engineers to support Malampaya.
After four years, Malonzo's career reached new heights when she was appointed Senior Flow Assurance Engineer for Shell Global Solutions Malaysia.
Now, Malonzo is back with Shell Philippines Exploration where she manages a team in championing several work processes. She says that her team's objective is "to make sure that all departments collaborate effectively and reliably," which, in turn, is necessary for Shell to maintain high levels of efficiency and productivity.
With an engineering career that spans over a decade, Malonzo has stood as an inspiration to all chemical engineering students nationwide, having been an important driving force in the country's progress through her valuable work in the Malampaya project.
"Shell equips you to be able to do you job well," she shared, addressing all the engineering students in the audience. "But whatever you have now, do it right and do it with respect, because what people will try to see in you is your strength in your character."