Thursday, 26 September 2013
The Malampaya Deep Water Gas-to-Power Project Phase 3 (MP3) has launched skills training programs in Subic for important sectors in society: the women, traffic enforcers and public utility vehicle drivers, particularly the tricycle drivers.
Subic is the site of Keppel Subic Shipyard and is where the MP3 Depletion Compression Platform is being constructed. A Subic Social Baseline Study commissioned by the Shell Philippines Exploration, B.V. (SPEX) MP3 Project team was able to define the social environment of the Project and assisted in identifying social investment programs that would benefit nearby communities as well as cater best to the Project's needs.
Promoting road safety
The Malampaya Phase 3 (MP3) Project, through the Malampaya Foundation, Inc. (MFI) launched a social investment program to promote road safety called Project KALSADA or 'Kaligtasan sa Daan' to address the problem of rampant road accidents, which is the fourth leading cause of death in the Philippines according to the Department of Health.
 Moreover, the MP3 Project team saw the need for a program that will teach road safety to targeted audience in the communities. This program will help mitigate risks and possible accidents that may occur in the congested roads of Subic brought about by increased vehicular traffic.
 Recognizing that the tricycle is a major transportation mode in the area, KALSADA's road safety workshops were particularly geared for tricycle drivers—training them on defensive driving and teaching safer driving behaviours and practices.
 The series of trainings started last July at Barangay Wawandue, Subic Town with Safe-T-Ryders as trainer and resource. Safe-T-Ryders Motorcycle Training Center shares KALSADA's commitment in promoting a safety-oriented mindset by providing basic and enrichment riding courses that teach drivers to be safer road users.
KALSADA holds road safety workshops for tricycle drivers and traffic enforcers
The program also acknowledged the importance of having competent traffic enforcers at the area, and kicked-off the series of training with a capacity-building course for the Subic traffic enforcers. The program provided traffic enforcers refresher courses on traffic rules, regulations and traffic direction and control, and equipped them with sets of rain boots, raincoats, gloves and reflectorized vests so they can better enforce their duties.
Malampaya conducts the KALSADA workshops in partnership with the Land Transportation Office-Law Enforcement Traffic Adjudication System – Olongapo and the Provincial Highway Patrol Group – Zambales.
Empowering women
The Subic Social Baseline Study commissioned by the MP3 Project team showed that there is a need to enhance livelihood opportunities for women, hence Project GANDA, or 'Galing at Negosyo Dulot ay Asenso' was implemented. This is a capacity-building program for women that will empower them to take a decisive role in uplifting the economic status of their community.
 "This program is certainly a big help to making women in the communities more productive and helping improve the family income," said Subiceña President Eloisa Khonghun.
 GANDA, in partnership with Subiceña and the Subic local government, provides capacity-building trainings for mothers and single women to help them obtain employment or venture into their own business enterprise.
 "The program hopes to impart knowledge and tools, that, together with the individual's perseverance, will help provide for a sustainable means of making a living and promote self-sufficiency," affirmed Karen Agabin, MFI Executive Director.
 GANDA conducts trainings on personal grooming, culinary arts, food processing, sewing, product development and other trainings.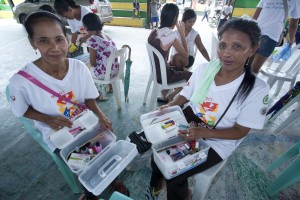 Two beneficiaries of the GANDA Project proudly show their new sewing kits at the formal launch
Women apply the practical skills they learned from Project GANDA
Powering inclusive growth
Project KALSADA and GANDA are part of the Malampaya Deep Water Gas-to-Power Project's goal to fuel inclusive growth besides supplying the country's energy needs with natural gas – a cleaner source of power.
 The programs are funded by Malampaya Phases 2 and 3 (MP 2 & 3), the Gas Project's next stages of development.
In July, the Malampaya consortium reported the safe and successful drilling phase of two additional gas wells in Palawan. MP2 is expected to be completed in early 2014.
MP2 and 3 will sustain the level of gas production from the Malampaya gas field located in northwest Palawan's deepwater reservoir.
The consortium led by Shell Philippines Exploration, B.V. (SPEX) under Service Contract 38 uses innovative deepwater technology from the Shell Group's worldwide project expertise on gas technology, to safely and efficiently recover natural gas for gas production.
Malampaya fuels three power plants with a total capacity of 2,700 megawatts, accounting for 40 percent to 45 percent of Luzon's generation capacity.
The Malampaya Gas Project aims to broaden the Philippines' energy mix by introducing the benefits of natural gas production. Natural gas is the fuel for sustainable growth and development as it is the cleanest-burning fossil fuel with a globally abundant and diverse supply.