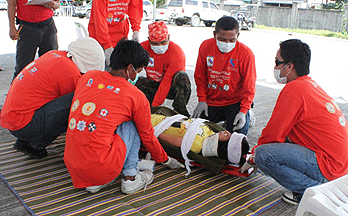 Malampaya Foundation Inc. (MFI) held its first ever Neighbourhood Emergency Services Team (NEST) Olympics last September 16, 2011 at the Batangas City Coliseum grounds which was participated by the residents from 11 barangays in the city. The successful event was in cooperation with the Batangas City Government, Department of Interior and Local Government (DILG)-Batangas, Bureau of Fire Protection (BFP), and the Philippine Red Cross Batangas Chapter.
The aim of the activity was to measure the knowledge and preparedness of each community when responding to an accident or a calamity. Brgy. Tabangao Ambulong grabbed the 1st place, with a Php 10,000.00 cash prize. Finishing 2nd place was BUBI (Buklod Unlad ng Batangas Inc.) with a Php 7,500.00 cash prize. And landing on the 3rd place was Brgy. Malitam bagging the Php 5,000.00 cash prize.
The programme started with a motorcade lead by MFI and BFP to show the significance and objective of the project. It was then followed by a short programme where DILG Batangas Director Victoria Amor San Gabriel emphasised the importance of the Republic Act (RA) 10121 that supports the strengthening of the Disaster Risk Reduction and Management Council in each barangay. She also addressed the barangay leaders and volunteers who lent their time for the activity. "This is for your community's welfare, and for your safety also", added San Gabriel.
Shell Batangas' Communications Manager Ma. Divina De Leon said during her welcome remark that PSPC and Malampaya put safety as an utmost priority and stressed the importance of safety in everything that its employees do. She also said that Shell will always support MFI's projects on safety and disaster preparedness.
There were different kinds of activities during the Olympics. The Bureau of Fire Protection led the Fire Fighting, Saving Private Ryan, and Bucket Relay which were all relevant on what-to-do and how-to-do-it guidelines when there is fire.
On the other hand, the Philippine Red Cross was in charge during the Situational analysis, first aid and medical, cardio-pulmonary resuscitation (CPR) and patient transport. These activities are necessary first aid treatment when accidents and calamities happen.
During the closing programme, MFI's Programe Manager Teddy Bolivar acknowledged and congratulated all the participants and volunteers. He also asked for the volunteers' continuous support to their community's disaster-preparedness and activities that highlight safety.
Malampaya Foundation Inc. (MFI) started its NEST programme in 2007. At present, the programme has already produced 448 graduates.
[Dawn R. De Guzman, Batangas Communications Assistant]