Thursday, 9 February 2017
Attaining success through education, 195 scholars from various parts of Batangas received their certificate of completion under the Bridging Employment through Skills Training (BEST) programme last August at Pontefino Hotel, Batangas City.
The graduates were composed of 60 scholars from Piping Insulation, 60 from Scaffolding, 30 from Pipe Fitting, 20 from Instrumentation and Control, and 25 from Gas Tungsten Arc Welding (GTAW).

Some of the 195 hopeful scholars received their certificate as a sign of completion of MFI's BEST programme.
Former Shell Philippines Exploration B.V. General Manager Sebastian Quiñiones reminded the necessary qualities and elements for success that he would like to impart to the 195 BEST graduates.
"Filipinos around the world are known as diligent workers. Please make sure that you keep that impression. Also, the quality of work must be kept in the highest level and never accept mediocrity. Always seek for what is better and keep the mindset of having continuous improvement. Maintain your morality in any places you'll be going and keep your ethics as high as you can."
BEST scholars received the accredited trainings from TESDA and other training centres in Batangas City such as BAGMET Skills Training Centre, Concpet Institute for Career Enhancement Inc. (CICEI) and Topglobal Skills Manpower Development Centre Inc. These accredited training centres have their respective manpower agencies which can provide assistance on possible employment right after graduation.
"I belive that this programme will pave the way for out-of-school residents for employment and address the skills required by the industry," said Mayor's Office Administrative Officer IV Abegail Airene C. Abendan in behalf of Batangas City Mayor Hon. Beverly Rose A. Dimacuha. "This step is very timely, because of the bloating unemployment rate of the country which is a sign of skill mismatch," she added.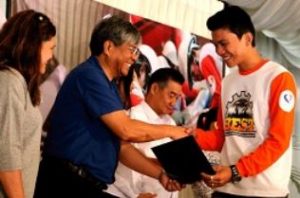 Pipe Insulation scholar Darren Abanador delightfully receiving his certificate of completion given by former Shell Philippines Exploration B.V. General Manager Sebastian Quiniones.
The BEST programme has come a long way gearing towards its success. Hurling the programme since 2007, a total of 2740 scholars had already benefitted and completed their trainings. Successful graduates have already established their prolific lives and are now employes by industries not just locally but also overseas.
One of the 195 BEST graduates and GTAW scholar Jun Frane will be going to Japan under Mitsubishi Hitachi Power Systems, LTD (MHPS).
"With 21 days of training under the BEST programme, I learned a lot, not just knowledge, but values and morals. I would like to thank the Malampaya Foundation Inc. and all the people behind the foundation. And for my co-scholars, never stop to seek for excellence and never waste the opportunities coming your way. We never know that these opportunities are the key and ladder to achieve our dreams," he said.
Public Employment Service Office (PESO) Manager Noel Silang encouraged the BEST scholars to visit their office and register. Their office can assist them in looking for the best opportunities for them. "Batangas City is one of the recipients of KIOSK being implemented by Department of Labor (DOLE) and Philippine Overseas Employment Administration (POEA). It is a machine in which they may enter their precise skill and will give job opportunities based on their accomplished course," he noted.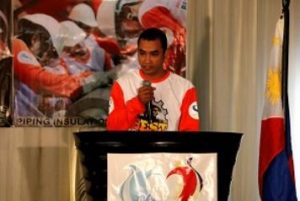 GTAW scholar June Frane will be going to Japan under Mitsubishi Hitachi Power Systems, LTD (MHPS) gives his words of encouragement to his co-scholars.
The Malampaya Foundation Inc. established the BEST programme in order to strengthen the knowledge of scholars through quality technical and vocational training. The programme is open for out-of-school youth, ages 21-35 years old, male and female residents of Batangas. Applicants are required to undergo the screening process for them to be accepted in specialized courses.