Thursday, 9 February 2017
Seven barangays in different municipalities and their respective marine protected area management councils were named as beneficiaries in a new memorandum of agreement signed between the Provincial Government of Oriental Mindoro (PGOM) and Malampaya Foundation Inc. (MFI) on November 7 in Calapan City.
Oriental Mindoro Governor Alfonso V. Umali, Jr. and MFI Board Chair Rufino Bomasang, who represented PGOM and MFI, respectively, in the agreement described it as their commitment to ensure the conservation of marine areas and socio-economic improvement of coastal communities in the province of Oriental Mindoro.
Umali congratulated the MOA beneficiaries and thanked MFI for its continuous support in the development and conservation efforts in coastal areas of his province as he reiterated the shared vision of Oriental Mindoro with MFI's approach in marine biodiversity protection.
"I believe that the provincial government and MFI are negotiating the same path in enhancing the sustainable conservation and management of coastal and marine resources of the province which is heavily dependent on agri-fishery resources and tourism," Umali said.
Bomasang praised the active participation of every stakeholder as he pledged to continue working with the province of Oriental Mindoro and the various local governments and select communities from north to south in fostering self-help among communities.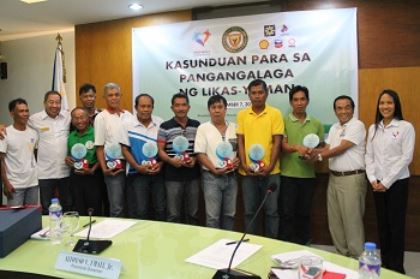 Beneficiaries from Barangay Misong, Pola, and Oriental Mindoro receive a plaque of appreciation for being partners to MFI's social development programmes.
"The process of ensuring our interventions are sustainable. It takes a long time and will never be possible without the working and fruitful partnerships with local governments and grassroots communities," Bomasang emphasized during the MOA signing ceremony held at Tamaraw Hall of the provincial capitol in Calapan City.
MFI Executive Director Karen Agabin said the non-governmental groups and MPA management councils whose conservation agreement were extended by virtue of the said agreement are the Calima Fishermen's Association in Barangay Calima, Pola; Samahan sa Barangay Pili Para sa Pangangalaga ng Kalikasan (SBPKK) and Pili Fish Sanctuary Management Council in Pili, Pinamalayan, Oriental Mindoro; St. John D' Baptist Fisherfolk Association (SJBFA) in Barangay Puting Cacao, Pola; LIKHA-KAMI Baco MPA Management Council, Barangay San Andres, Baco; Samahang Pangkabuhayan ng mga Taga Dulangan (SPTD), Puerto Galera Mangrove Conservation and Ecotourism Area, MPA Management Council, Municipal Agriculture Office, Puerto Galera; Agsalin Fish Sanctuary Management Council, Agsalin, Gloria; Barangay Balatasan Seaweeds Farmers Association, Balatasan Fish Sanctuary Management Council, Balatasan, Bulalacao.
Agabin said that MFI actively supports the national government policy framework in promoting sustainable development of the country's coastal marine environment and resources in its thrust to achieve food security, poverty alleviation, and reduction of vulnerability to natural hazards while preserving ecological integrity.
The agreement is also envisioned to strengthen the enforcement of fishery laws in the province and enhancement of the Verde Island Passage (VIP) Conservation Programme which both parties initiated in 2013.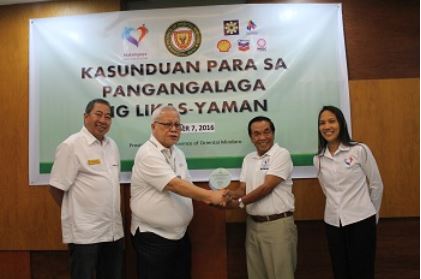 MFI Former Chairman of the Board Rufino Bomasang (2nd from right) and MFI Executive Director Karen Agabin (right) hand over a plaque of appreciation to Oriental Mindoro Provincial Administrator Nelson Melgar (2nd from left) and Oriental Mindoro Gov. Alfonso V. Umali Jr. (left) for being partners to MFI's social development programmes.
MFI, which acts as the social investment arm of the Malampaya Joint Venture partners (Shell Philippines Exploration B.V., Chevron Malampaya LLC, Philippine National Oil Company-EC, Department of Energy) is also dedicated in introducing local capacity-building planning and working with local institutions.
The VIP, dubbed as the "centre of the centre" of the world shore fish biodiversity, is a 1.4 million stretch of marine offshore and onshore zone sweeping the five provinces of Cavite, Batangas, Occidental Mindoro, Oriental Mindoro, Marinduque and Romblon.
By latest count, the VIP is home to 319 species and 74 genera of corals and 60 percent of the world's known shore fish species which gives it the distinction as the "counterpart of Amazon River Basin."
Bomasang cited the development of the Malampaya Deep Water Gas-to-Power Project when it assured that while Malampaya produces clean, reliable energy for the nation, it will not harm the country's biodiversity nor the people living close by.
"The main principle then was sustainable development: meeting the needs of the present without compromising the ability of future generations to meet their own needs," Bomasang said.
The MOA also recognizes the global significance of Puerto Galera as a Man and the Biosphere Reserve, Naujan Lake as a RAMSAR Site, the Coral Triangle, and global biodiversity conservation targets for the benefit of the present and future generations.
Agabin said the MOA is also in consonance with Presidential Executive Order No. 578 which mandates the protection and conservation and sustainable use of the biological diversity in VIP Corridor, and Executive Order No. 533 which ordains that Integrated Coastal Management (ICM) and related approaches, such as coastal resource management or coastal zone management, be the national government policy framework to promote sustainable development.
SPTD chairman Hermilando Lopez and Pola municipal agriculturist Ignacio Tria both recognized the invaluable support of MFI in their municipalities as they echoed Bomasang's statement that sustainable development is possible only when all parties are committed and put in the necessary effort to achieve what others would deem impossible. [Jerry Alcayde]