Shell, a global leader in power, energy, and gas technology, is working to meet increasing energy demand and supply challenges by delivering smarter products and cleaner energy, smarter infrastructure, promoting smarter use and by developing new energy sources while addressing the impact on the environment, through advanced fuels and lubricants technology and unlocking sources of cleaner burning-natural gas.  
In the Philippines, the company operates the Malampaya Deep Water Gas-to-Power Project which is one of the country's largest and most significant industrial endeavors that harnesses indigenous natural gas from the deepwater reservoir northwest of Palawan. Malampaya provides 2700 megawatts of electricity which accounts to 40 to 45 percent of Luzon's power generation.
In the recent PowerTrends energy forum, Sebastian Quiniones, Managing Director of Malampaya consortium operator Shell Philippines Exploration, B.V. (SPEX), said at the panel discussion that natural gas is the cleanest and most sustainable fuel for development. "Malampaya displaces an estimated 1.35 million kilograms of carbon dioxide per hour, a cleaner and more sustainable energy process compared to energy generation using coal or fuel oil."
He said that the Philippines still lags behind other developing countries in Asia when it comes to exploration activities for indigenous energy sources. "The Philippines' vast energy reservoir potential remains untapped compared to its Asian neighbours. Only 566 wells have been drilled in the Philippines in the last 100 years, compared to 400 wells drilled in Indonesia in just one year, according to the Petroleum Association of the Philippines."  
In order to meet the country's immediate economic targets and long-term projections of economic growth, Quiniones recommended lessening dependence on fuel imports which can be achieved by sustaining the successes of the Malampaya Gas Project. "Malampaya has reduced the Philippines' oil imports by 30 percent. Further strengthening our country's energy self-sufficiency can be achieved through exploration and development of other gas fields in the country." 
The Malampaya Deep Water Gas-to-Power Project is now embarking on its next stages of development, the Malampaya Phases 2 and 3 (MP 2 and 3). MP2 involves the construction of additional wells that, together with MP3's additional gas platform that employs innovative deepwater technology, will safely and efficiently sustain the level of gas production from the Malampaya gas field.
Spearheaded by the Philippine Department of Energy, the Malampaya Gas Project is operated by Shell Philippines Exploration, B.V. (SPEX) on behalf of Joint Venture partners Chevron Malampaya LLC and Philippine National Oil Company (PNOC) – Exploration Corporation (EC). SPEX manages Shell's upstream business in the country, and specialises in the exploration and development of cleaner sources of energy to sustainably power the Philippines' surging energy demand.
Pioneering Liquefied Natural Gas
Other than natural gas from Malampaya, the benefits of introducing Liquefied Natural Gas (LNG) for Philippine power generation was tackled in the forum by Scott Porter, Shell Eastern Petroleum Senior Business Development Manager. The LNG import facility being pursued by Shell Gas and Energy Philippines Corporation (SGEPC) will complement the Malampaya Deep Water Gas-to-Power Project in enforcing the natural gas advocacy in the country.
The Memorandum of Agreement with the Department of Energy was signed last June, 2012 for a Technical Feasibility Study on the Liquefied Natural Gas plant to be built in Batangas, Philippines. The LNG Project's environmental compliance certificate (ECC) has been secured and the Project has entered its front-end engineering design phase.
Diversifying PH Energy Mix
With energy closely entwined with the economy, the Philippine Department of Energy (DoE) highlighted during PowerTrends that the development of an energy portfolio with a wide-ranging energy mix is essential in driving the government's Energy Reform Agenda that has the overarching goal of ensuring energy security and energy access for more.  
DoE Undersecretary Loreta Ayson, speaking on behalf of Energy Secretary Carlos Jericho Petilla, affirmed the vital role of the energy sector in the government's pursuit of economic growth and promotion of countryside development.  
"The constant search for energy supply does not concentrate on power alone as it is only a component of the energy sector's entirety. The government is forward-looking and stresses its program on indigenous energy development specifically for petroleum resources like oil, gas and coal, and renewable energy," Ayson said.
The Malampaya Gas Project and the LNG Project are developments in the country's natural gas technology which help energize a sustainable energy future for the country. Where a robust economy calls for a tall order of a balanced energy mix to fuel the country's need for energy efficiency, natural gas will play a key role as it is known as the cleanest-burning fossil fuel with a globally abundant and diverse supply. ###
Sebastian Quiniones, Shell Philippines Exploration, B.V. (SPEX) Managing Director discusses how Malampaya provides sustainable energy to Filipinos.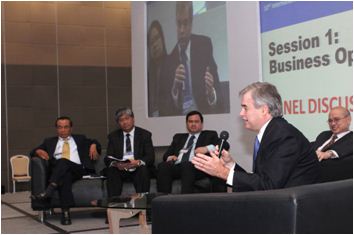 At the Powertrends open form, in photo are (from left to right) Rufino B. Bomasang, Philippine Chamber of Coal Mines, Inc. (PHILCOAL) Chairman, Sebastian Quiniones, Roger Buendia, Aboitiz Power First Vice President for Trading and Marketing, Session Chair Dr Francisco Viray, Trans-Asia Oil and Energy Development Corp. President and CEO, and Scott Porter, Shell Eastern Petroleum Pte, Ltd Senior Business Development Manager.