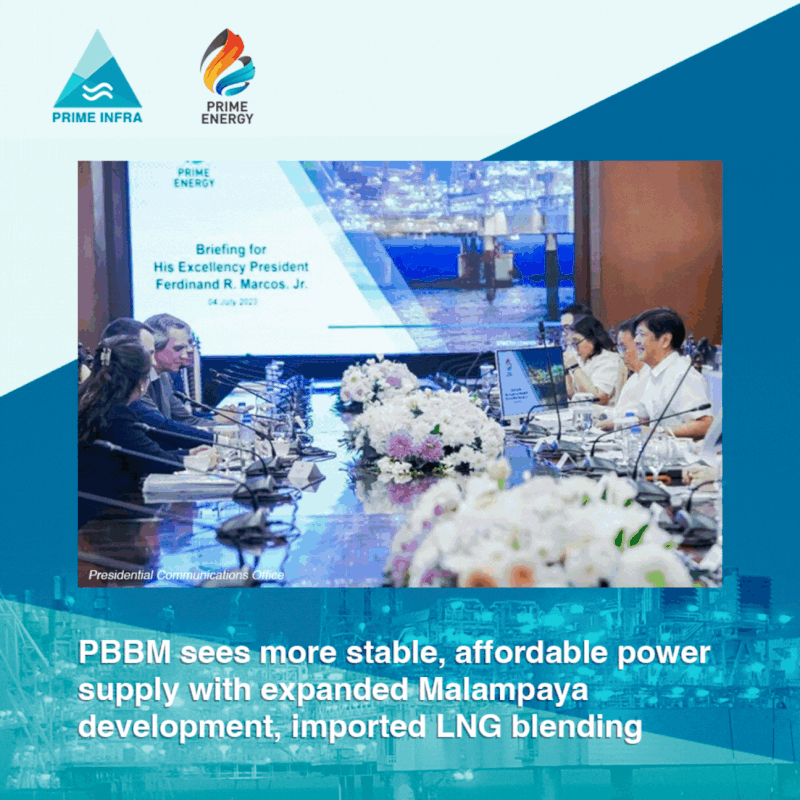 President Ferdinand R. Marcos Jr. expects a more stable and cheaper energy with the expanded development of Malampaya gas field and blending of imported liquified natural gas (LNG).
During a meeting with Prime Energy Resources Development B.V., (Prime Energy) in Malacañang on Tuesday, the energy operator discussed with the President its plans to explore and develop indigenous gas prospects; supplement the current indigenous gas production with liquefied natural gas (LNG) imports through a gas aggregation framework; and, enable the stability, competitiveness, and expansion of the country's gas market.
Prime infrastructure Capital Inc. Chairman Enrique Razon Jr. led the presentation with his company's President and Chief Executive Officer Guillame Lucci, Senior Advisor Sebastian Quiniones and General Manager Donnabel Cruz.
"It seems that this gas aggregator idea is the key. Again, we have work to do," President Marcos said during the meeting with Prime Energy officials.
Prime Energy, the operator of Service Contract 38 (SC 38), briefed President Marcos on the progress made in developing the nearby fields within Malampaya Service Contract 38.
The drilling of Prime Energy's two deep wells will commence in the last quarter of 2024, with additional production from the Malampaya field expected to start by the first half of 2026.
The President welcomed the drilling schedule for SC 38.
Prime Energy also told the President about its plan to import LNG to make up for shortfalls in Malampaya gas. An added feature is the blending of imported LNG with Malampaya gas to ensure stability of supply at a price below international prices.
The blended gas will be made available by Prime Energy and PNOC Exploration Corp. (PNOC-EC) to all gas power plants at the same price.
The President emphasized the Government's commitment in ensuring stability of supply, affordability, transparency and competition in the Philippine natural gas market, particularly with the introduction of imported LNG for the first time.
Prime Energy is a natural gas exploration and development company with 45 percent operating interest in Service Contract No. 38 (SC 38), covering the Malampaya Gas-to-Power Project. The Malampaya gas field is the only indigenous gas source in the country.
President Marcos signed the Renewal Agreement of Service Contract No. 38 (SC 38) last May 15 this year, which will extend the contract until February 2039.
With the renewal of SC 38, Prime Energy plans to commence drilling activities by 2025 in the Camago and Malampaya East fields that are in close vicinity to the existing Malampaya Platform and participate in other Service Contracts.
Production from a new well in the Malampaya natural gas resource is expected by 2026. PND
source: www.pco.gov.ph