Thursday, 9 February 2017
​Pilipinas Shell Foundation, Inc. (PSFI) recently inaugurated the second site of its Access to Energy project under the Sustain, Invest, and Nurture Access to Green Energy (SINAG) Programme in Sitio Ligad, Barangay Teneguiban, El Nido, Palawan.
"At Shell, we are looking for sites that are impossible to be powered in the next five years due to the challenges of location and infrastructure," said PSFI Programme Manager Marvi Trudeau. "We are here to help communities who are willing to help themselves toward progress."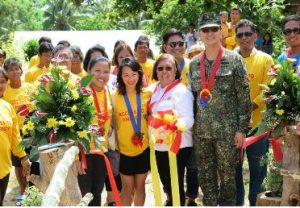 (From left) Mayor of El Nido Nieves Rosento, Shell Australia Distribution Information and Insights Expert Jenny Ling, PSFI Programme Manager Marvi Trudeau, and Western Command Deputy Commander Allan Ferdinand Cusi lead the inauguration of the SINAG Access to Energy project in Sitio Ligad, El Nido, Palawan.
Sitio Ligad is 273 kilometres away from Puerto Princesa City and can be reached after a 6.5-hour road trip and a 30-minute boat ride. It is isolated enough for Palawan's power providers not to prioritise its electrification.
"I thought that Ligad will be left behind because it is too far. I could not believe that we will receive this blessing from Shell," said Teneguiban Barangay Captain Allan Tanaleon.
SINAG aims to help small communities that are not yet connected to the main power grids, including indigenous coastal communities such as Ligad. Its pilot project was implemented last year in Sitio Kalakuasan, a remote tribal village in Puerto Princesa City, where a pico-hydro system backed up by solar hybrid and diesel generator was installed to generate three kilo-volt-ampere (kVA). It is now benefitting 36 Batak tribe households with a population of 249 individuals.
In Ligad, a higher-capacity system was built to provide 6kVA, 7kVA and 10kVA of electrical power through a mini-grid power system composed of wind turbine, solar, and diesel power, respectively. This provides an uninterrupted power supply to the community who will be responsible for its management and maintenance for its sustainability through the Ligad Electrical Association.
"Our system is mainly powered by a wind turbine backed up by solar and diesel generator," explained SINAG Project Officer Yoyon Rebueno. "At times, when solar and wind are not available, the back-up diesel generator powers up to run the entire system. All of these processes happen seamlessly by automatically selecting which power source is available to fill the batteries."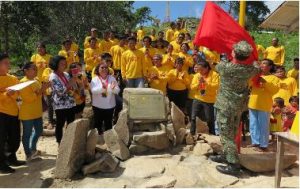 PSFI Programme Manager Marvi Trudeau (left) and El Nido Mayor Nieves Rosento (right) inaugurate the Access to Energy project marker together with special guests from the Department of Education, Joint Task Force Malampaya, Pilipinas Shell Petroleum Corporation, and the Local Government Unit of Barangay Teneguiban.
A total of 42 households comprising 169 individuals are now benefitting from the Access to Energy project in Ligad.
Department of Education Officer-in-Charge and Assistant Division Superintendent Roselyn Vicente said that they will include Ligad Elementary School in the Department Computerization Programme which aims to provide public schools with appropriate technologies that would enhance the teaching-learning process to meet the challenges of the 21st century.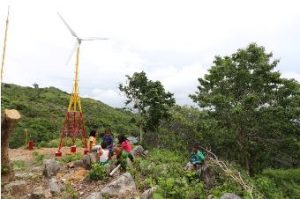 Children gather near the newly installed wind turbine in Sitio Ligad, El Nido, Palawan. The mini-grid power system is composed of wind, solar, and diesel power that now provides the community with 24/7 access to free energy.
"This programme of PSFI is a testament that there are government and private institutions that love and care for the people who are living in far-flung areas," said El Nido Mayor Nieves Rosento.
The Access to Energy project is implemented by PSFI in partnership with the Provincial Government of Palawan, Municipal Government of El Nido, Department of Education and the National Council for Indigenous Peoples. [Mitch Gimena]