Brigada Eskwela 2009 volunteers from Shell companies in the Philippines
Some 29 volunteers from Shell Philippines Exploration B.V. (SPEX) and Shell Shared Service Centre-Manila (SSSC-Manila) took part in "ISKObasura", a coastal clean-up activity in Calapan City, Oriental Mindoro on June 12, 2009.
A joint endeavour of the provincial government of Oriental Mindoro, city government of Calapan, the Malampaya Joint Venture Partners (MJVP), and the Malampaya Foundation, Inc. (MFI), ISKObasura (Isakatuparan ang Kalinisan ng Karagatan sa Oriental Mindoro) is an underwater and coastal clean-up drive that serves as a venue to help teach residents the value of protecting their water resources and the environment.
Oriental Mindoro Governor Arnan Panaligan, MFI Executive Director Luke Esteban, and Shell Sustainable Development Manager Chito Maniago attended the event's opening ceremony.
In his speech, Governor Panaligan reminded the residents in the coastal communities to take good care of the sea, the coastline, and their environment for it is their source of livelihood. "You will be the ones affected when the marine resources die so you should keep the ocean clean."
The governor reported that the provincial government will implement a tree-planting programme in the coastal communities as part of their integrated coastal resource management programme.
He thanked the Malampaya Partners and the MFI for their continuous support to the provincial government in implementing various education and environmental programmes in Oriental Mindoro.
Esteban hopes the coastal clean-up project in Oriental Mindoro will continue, especially in Calapan City.
In his message before hundreds of fishermen and barangay officials, Esteban explained the importance of keeping the coastal areas clean and garbage-free. He said that large fish and marine mammals such as whales accidentally ingest garbage such as plastics and other non-biodegrable materials that can cause their death.
For his part, Maniago promised that the Malampaya Partners will continue to support the various environmental projects in the province. "We are happy that we were given the opportunity to help you clean the sea and coastline of garbage," Maniago said.
Other guests during the event were Provincial Administrator Adel Abas, Oriental Mindoro Philippine Coastguard Chief Lt. Jr. Grade Algier Ricafrente, City Education Officer Marilyn Manigbas, and officials of the different Fisheries and Aquatic Community Councils of the 11 coastal communities in Calapan.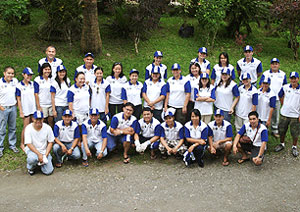 As part of ISKObasura, a coastal clean-up contest was held among the different communities in Calapan, Oriental Mindoro.
Residents of Barangay Wawa took the Php 15,000 first prize for collecting 583 kilos of garbage. Second placer Barangay Mahal na Pangalan went home with the Php 10,000 prize after collecting 389 kilos of trash. Barangay San Antonio settled for third place and took the Php 5,000 prize with 363 kilos of garbage.
Barangays Lazareto, Pachoca, Calero, Tibag, Balite, Ibaba West, San Rafael and Ibaba East each received a Php 3,000 consolation prize. [SPEX Communications]