For the first time in its 14-year history, Shell Philippines Exploration B.V. (SPEX), operator of the Malampaya Deep Water Gas-to-Power Project, was hailed as Shell's Upstream Asset of the Year. The award recognizes the asset's impressive safety and operational performance.
"The Upstream Asset of the Year Award is given by the Global Production Excellence (GPE) team to upstream assets who have met or exceeded performance criteria," said Baste Quiniones, SPEX asset manager. "SPEX was able to go beyond the metrics."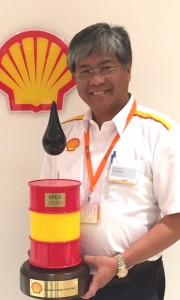 Baste holds the Asset of the Year trophy.
The GPE team uses key performance indicators to rank assets worldwide. The overarching theme of Production is "Make it Safe, Make it Work, and Make it Grow." For the Health, Safety, Security, and the Environment (HSSE) metrics, there are "five lines on the sand," and for Production, they are grouped into five global processes. These are Maintenance and Integrity Execution/Mitigate Threats to Availability (MIE/MTA); Ensure Safe Production/Operation Integrity (ESP/OI); Maintenance End-to-End (ME2E); Wells, Reservoirs, and Facility Management (WRFM); and Integrated Activity Planning (IAP).
The award was announced by Shell Chief Executive Officer Ben van Beurden from Rijswijk, Netherlands, during a virtual session at the recently held Asset Managers' Conference in Singapore. GPE Vice President Joep Coppes personally handed the trophy to Baste.
"This is a big trophy for a big award," Joep said. "And rightly, this year, it goes to Baste and his entire team of staff and contractors in SPEX who have demonstrated truly outstanding performance in their production journey. Well done, and well-deserved."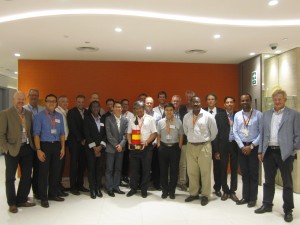 Baste joins other asset managers across various Shell sites for the Asset Managers' Conference in Singapore. SPEX Field Development Manager Delton Sy (front row, second from left) also attended the event.

It was a pleasant surprise for Baste when he was called to receive the award. "After engaging with all the asset managers spread out in three hubs (Assen, New Orleans, and Singapore) and before closing the session, Ben said that there was an award for the Shell Upstream Asset for 2015 which he would like to hand out," Baste said. "And that's when he called me up, gave the award, and mentioned a long list of items that was worthy of recognition for Malampaya."
Baste said that collaboration among its workforce, both Shell and contractor staff, helped SPEX achieve the award. Congratulating the team, he said that everyone should work harder to ensure that the award is well-deserved. "For those who are given more, more is expected. I'm hoping that we rise up to the occasion and do our duty with enhanced fervor going forward. Kayang-kaya kung-sama!"