Thursday, 9 February 2017
In his first town hall with staff, Shell Philippines Exploration B.V. (SPEX) new Asset Manager and Local Senior Upstream Representative Don Paulino focused on the value of helping each other succeed.
"We have the potential to be a great asset, but we need to help each other," Don says. "Our role in life is making people successful, creating possibilities, and mobilising people."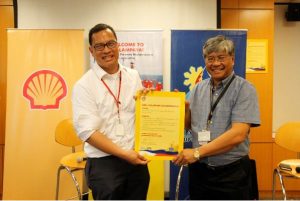 Outgoing SPEX Asset Manager and LSUR Baste Quiniones (right) turns over the stewardship to Don (left).​ ​
Don shared that past career experiences—both good and bad—shaped him as a person and helped him reach success. He believes that there is no concrete formula for SPEX to attain success, but making other people successful and talking about possibilities is an opportunity with "this great asset that we have."
Don said that SPEX is in a crucial period due to three reasons. The first is the need for the organisation to sustain success; second, the various challenges from managing external environment and stakeholders to transitioning the company's business to a different type; lastly, making sure that the work is worthwhile and rewarding.