Thursday, 9 February 2017
Edong Magpayo, a project officer at Pilipinas Shell Foundation, Inc. (PSFI) in Palawan, won first place in the 2016 Biodiversity Photo Contest of the Deutsche Gesellschaft für Internationale Zusammenarbeit (GIZ) GmbH and the Biodiversity Management Bureau of the Department of Environment and Natural Resources (DENR-BMB).
Edong's winning photo depicts the simple life of the indigenous Batak tribe in Sitio Kalakuasan, Barangay Tanabag, Puerto Princesa City.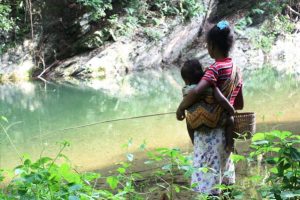 Now on its third year, the national photo competition aims to raise awareness on how biodiversity and livelihood intertwine, and inspire others to appreciate this interconnectedness. Entries must tell a story on how efforts in protecting biodiversity help to sustain livelihood.

Edong shares that life in Sitio Kalakuasan is not complicated. "My photo shows that the Batak can easily gather food without spending money. You just need time and focus," he says.
"It shows how happy our indigenous peoples can be just to have food to eat and have a simple and sustainable life," Edong adds.

Edong is a project officer for PSFI's Integrated Support to Indigenous Peoples (ISIP) programme. ISIP supports the IP's access to energy and education; enhances their capabilities to improve food production, farm productivity, and livelihood; and strengthens primary healthcare towards an empowered and self-reliant indigenous community.

Apart from his day job, Edong is an environmental and culture photographer, advocate and educator, and a youth community mentor. He runs "Tuklas Pilipinas," a photography hub on Instagram, which features the beauty of the Philippines' nature and culture.

Edong's entry received first place recognition during the awarding ceremony held on May 19 at the DENR-BMB compound in Quezon City. [Elvin Madamba]