Shell Philippines Exploration B.V. (SPEX), operator of the Malampaya Deepwater Gas-to-Power Project, supported the Department of Energy (DOE) in staging the "Philippine Upstream Petroleum Task Force Forum on Maritime Industry and Support Services (PUPTF-MISS)". The forum brought together both government and the private sector to discuss relevant Upstream concerns and challenges on maritime support services to help further the growth of the Philippine Upstream industry.
Attended by representatives from the DOE, Department of Transportation and Communication (DOTC), Maritime Industry Authority (MARINA), Philippine Coast Guard, Philippine Ports Authority (PPA), various Upstream petroleum service contractors, the Philippine Inter-Island Shipping Association of the Philippines, Inc. (PISA) and other companies in the marine support services, the forum was also an opportunity for speakers to present updates on their respective projects and activities.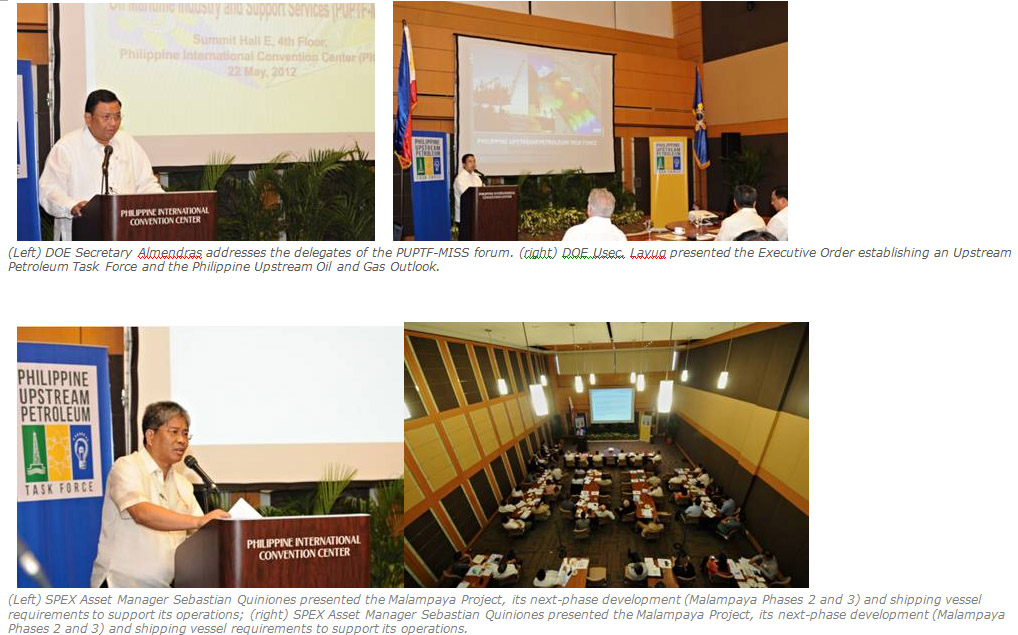 During the programme proper, DOE Secretary Rene Almendras formally welcomed the participants and opened the forum. Said Almendras, "This is an important forum that delivers significant input to the development of indigenous resources in the country. While petroleum exploration in the Philippines is beginning to pick up, we cannot ignore facts that inefficiencies and bottlenecks exist. We need to conduct more exploration work and drill more wells to improve the prospectivity of our petroleum resources. It is now, more than ever I believe, that we need to be more aggressive in our exploration efforts for oil and gas resources. With the pump price of oil fluctuating volatilely, scrambling to explore for oil internally is a viable strategy."
Sec. Almendras speech was followed by the presentation of DOE Undersecretary Jose M. Layug Jr., who discussed the salient features of Executive Order 60, which established the Philippine Upstream Petroleum Task Force. Usec. Layug, likewise, gave an insight into the Philippine Upstream Oil and Gas Outlook. Shell Philippines Exploration B.V. (SPEX) Local Senior Upstream Representative, Asset Manager and Managing Director Sebastian Quiniones also spoke in the forum's morning session. Quiniones presented on the Malampaya Project, its next-phase development (Malampaya Phases 2 and 3) and shipping vessel requirements to support its operations.
Other speakers and presenters at the forum were MARINA Administrator Atty. Nicasio A. Conti, PAP President Atty. Edgardo Hernandez, Galoc Production Company Operations Manager Jeffrey Hustler, PISA Executive Director Ernesto S. Paguyo, DOE-Energy Resource Development Bureau Acting Director Ismael U. Ocampo, BHP Billiton Petroleum (Phils) Corporation Country Manager Romeo Solis, Philippine National Oil Company-Exploration Corporation Exploration Manager Jimmy A. Bacud, and Forum Energy Phils. Inc. President Jose Raymund L. Apostol.
The health and growth of the Upstream Industry is of great significance to a country like the Philippines given its current power situation. The forum reflected the unified effort of all industry players towards a better, more streamlined way of doing business, to benefit all current industry players as well as to encourage new players into the Philippine Upstream Industry. The PUPTF-MISS forum was held on May 22, 2012 at the Philippine International Convention Center (PICC) in Pasay City. (SPEX Communications)